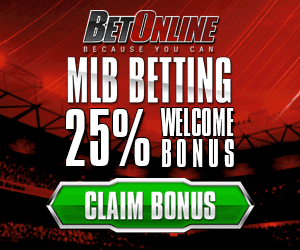 Want to bet on the World Series? Division titles? League Pennants? All are available at BetOnline! These betting odds can be found months, and even up to a year in advance of the World Series. Futures peak right before the start of the regular season, with Spring Training bringing out the most. This is a great time for users to check out all of the team projections and where they are predicted to finish in the standings. BetOnline's wide variety of futures puts the sportsbook in an elite category.
The game lines make up the largest portion of the betting section at BetOnline during the season. The 162-game regular season means that there are more than 2,000 games that take place. MLB teams play 146 more games than teams in the NFL during the regular season, and 80 more than the NBA and NHL. BetOnline's online sportsbook is constantly updating and forming new game lines for all matchups. Each game comes complete with a moneyline (favorite and underdog), run line (spread), and run total.
There are two categories of team prop odds at BetOnline. One of them centers on games, the other centers on season results. Each matchup on the MLB schedule will have at least a handful of team props that can be wagered. BetOnline has several 'stock props' that go along with all MLB games, but the potential for unique ones is there as well. As for the season-long team props, team projections covering wins and the playoffs are often formed. During the season as storylines pop up there can be props formed as well.
It's all about the players when it comes to proposition wagers for them. BetOnline singles out individuals for games and season results. MLB is known for being a game that is surrounded by statistics. The site has tons of categories to choose. Expect each game to be filled with player prop odds. All matchups during the regular season through the World Series will have these proposition wagers.