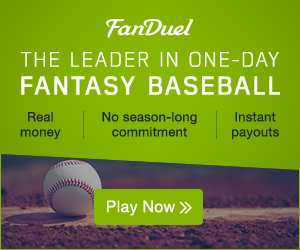 Users with an account are able to enter into contests that are available at FanDuel. They offer leagues, tournaments, head-to-head, and 50/50s. The freedom to choose the contests is definitely a plus at FanDuel.
A plethora of tournaments are available each day on MLB betting sites during the MLB season. They vary in size, entry fees, and how winnings are dispersed as well as the salary cap that owners get to assemble their teams. Users have the opportunity to enter into a tournament that meets their specific budget requirements. Additionally, the chance to form their own tournament is available. Tournaments can be invite-only by another major fantasy baseball website, or open to all account holders at FanDuel.
Similar to tournaments, leagues allow for users to join different contests to win money. Leagues have a set number of entries and once full, they are closed. The amount of money that can be won through a league can be anywhere from a few dollars to several thousand.
This type of contest involves just two users going up against each other. This is a winner-take-all format. Users can play other account holders that they know, or join random head-to-head challenges.
This is a contest where half of the field will double up, while the other half of the field will lose their entry fees. The nice thing about 50/50 FanDuel fantasy MLB tournaments is that half of the field will profit, which is something that you don't see much of when playing for money.