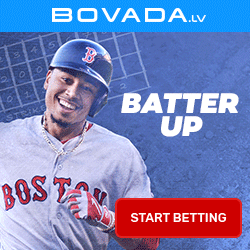 Found throughout the season, game lines are the most basic form of betting odds available for Bovada users. Bovada covers every Major League Baseball game on the schedule. There is not a single game that is left out. The sportsbook works very hard during the season where as many as 12 or 15 games can be played each day several times per week. The game lines consist of a moneyline (straight up wager to win), a run-line, and a run total. The run line is a handicap spread for baseball set at a consistent 1.5 runs. The run total is a bet on the total number of runs scored in the game.
Player prop odds can cover single games, or longer outcomes. Player props can be found in conjunction with individual game lines. These are outcomes based outside of the game lines however. Individual player performances in terms of hits, walks, strikeouts, RBIs and more can be covered. In terms of season-long player props, Bovada has MLB MVP odds, homer run leaders, + more.
Bovada begins their MLB team props section even before the season. Season win totals are seen first, followed shortly by the payouts for each of the 30 MLB teams to make the postseason. As the season opens, team props accompany individual matchups. There can be a dozen or more for each game.
The betting odds to win the World Series is the most-popular futures line at Bovada. The payouts for a championship can be found a year in advance of the upcoming World Series. Division odds + league pennants are also formed before the season starts.